Importing Remaining Prior Tax Year Data (Importing remaining payers if you didn't import all when first running the import process):
1. Go to menu bar, select Utilities, select Import Prior Tax Year Data.

2. A screen will pop-up showing your remaining Payers available to import.  Select All Payers or Single Payer option.  If choosing the Single Payer option then you must highlight (select) the Payer you want to import.  Click the Import button.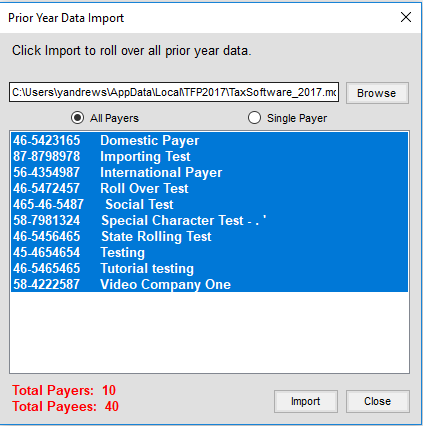 Note:
If you selected All Payers to import, once importing is complete, the import screen will close automatically and a pop-up message will appear reading "All payers imported successfully."
If you selected Single Payer to import, once the payer you selected has been imported, the import screen will close and a pop-up message will appear reading "Payer(s) imported successfully."