During installation our software will automatically check for updates at times your antivirus could block our site preventing you from getting the latest release. If you are getting an message in the software (Efile or Printing available in the next release) it could be your software is not up to date.
If you are having issues updating Laser Link, TaxRight, TFP or ACA software you are able to go directly to the website and download from here:
No Internet Connection? You are able to download the update to a flash drive using a computer connect to the internet.
Click the link below: Here are two different methods on how to update your software
* When you selected the update link below it will show the release you should be on example: LaserLink Release 22.1.3.0

1. Select the link to download and Save to your desktop Next copy and paste into the directory called UPDATES- c/program file or program files (86) / (Laser Link 20##, TFP20.## TaxRight 20## or ACA for 20##) once you have save the file in the UPDATE folder under Utilities select Check for Updates
Or
2. Close your software program
Select the link below > to download to your pc
After it has download > open and run the update following the prompts
If you are not able to open the download file > From your pc select the Downloads folder here you can run the download
Open up the software under Utilities select Check for Updates or run the updater by double clicking on the update file after you update
Note: You will only be able to update the current software installed. You are not able to update to the next tax year. Example: Laser Link 2021 to Laser Link 2022 or TaxRight 2021 to TaxRight 2022.
To verify your software has updated
To verify your software updated - Under the Help tab - select the "About (software name) for 202# to see the Release 22.1.3.0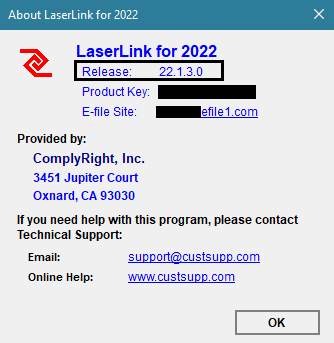 Here's how to identify the release you are on: Example of the LaserLink 2022 release 22.1.3.0 your software will start with the tax year (22.1.0.0 release v22.1.3.0 ). When we have an update the 1.0.0 will change to the next release available.
Laser Link 2022 Release 22.1.3.0
TaxRight 2022 Release 22.1.2.0
ACA 2021 should be Release 21.1.3.0
Note: 2020 Software and Prior Years - Check for Updates is not available in the software you will need to manually update using the link below "Prior Year"
Laser Link 2022
TaxRight 2022
ACA 2022

Prior Years -
Click here - Prior Year Updates
From the directory select the software and year to update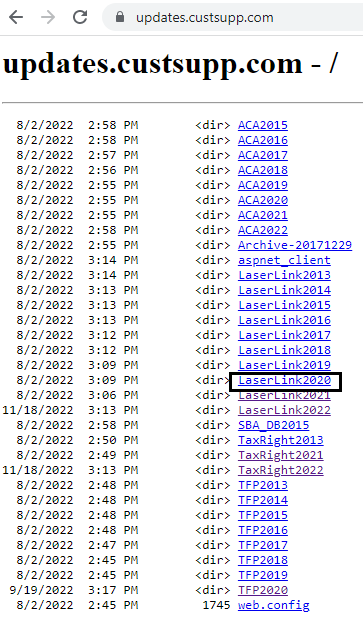 Select the link to start the download
Note: We no longer support 2017 and prior years software programs.