Located under the "Help" tab you are able to find more information about your software program.
Located in the upper navigation bar select the Help tab "About (TaxRight/LaserLink/ACA) for 20##)"
Here you are able to find your software (TaxRight/LaserLink/ACA) and the year you purchased
Release: We send out updates when or if there are any IRS changes to the forms, updates to the software and when we open the Efile Portal is available
Here's how to identify the release you are on: Under the Help tab select "About TaxRight for 2023" here you will be able to find the release you are on. Example Release 23.1.0.0 your software will start with the (tax year 23.1 release 0.0). When we have an update the 0.0 will change to the next release 0.1
Product Key: You will need the product key again if you get a new computer see
Note: You will need to backup and restore the data to your new computer
E-file Site: Select the link to be directed to the efile site sign in using your email and password you created from under the Efile tab. Note: if you efile with us in prior years and purchase from the same vendor you already have an efile account.
We only support the current tax filing years the E-file portal is open from ( Mid-November to October 31st). The IRS opens in Mid-January accepting filings for the tax filing year, as soon as the IRS site opens we will start transmitting files.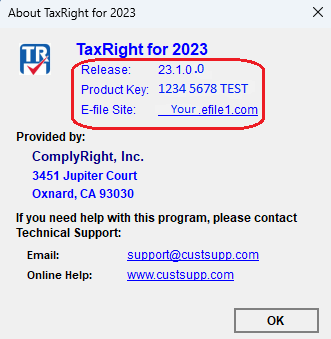 Provided by: ComplyRight Inc.
Email: Submit a help ticket and the agent will get back to you, for faster service provide name of software (TaxRight/LaserLink/ACA) & year, along with details how we can help you.
Online Help: Our self help articles are easy to use by searching for step by step instructions
To verify you are on the current release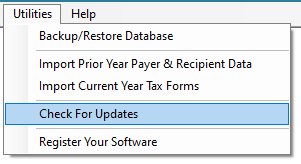 If you are not on the current release your anti-virus could be blocking the updater. Here is how to manually update your software or to verify your on the current release.
https://support.custsupp.com/hc/en-us/articles/210240486-Updates-Laser-Link-TaxRight-TFP-ACA