Create an E-file Account:
1) Click E-file in the menu bar then select Create an E-file Account.
Note: If Create an E-file Account is grey out and E-file My Forms is available your account has imported from the prior years. Select the E-file My Forms to start filing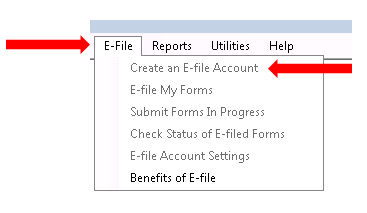 2) Enter an email address and password in the data fields and click Continue to Next Step.
3) Enter contact information for the account to be created. All fields in Bold are required. Then click Continue to Next Step.
4) Review the information entered and click Create Account if everything is correct or Back to Previous Step to edit information.
5) Once you click Create Account a pop-up message will appear once your account has been created. Click OK.
6) Now that your account is created you will see the Account Created screen. From here you can click E-File My Forms or continue to file forms and click E-file My Forms from the E-File menu bar when you are ready to e-file.
Note: The efile portal is available only for the current tax year than the portal is closed.
Example: Laser Link/TaxRight/ ACA 2021 tax year from November 2021 to October 2022
Note: you have created your e-file account, the menu item Create an E-file Account, under the E-file menu, will be disabled to prevent accidental duplication of accounts.
How to Efile Video -
https://support.custsupp.com/hc/en-us/articles/210240406-How-to-E-file-through-the-Software-Video