When you efile from the Laser Link, TaxRight or ACA software and your forms are not making it to the efile site it could be your firewall and/or antivirus is blocking our site will need to update Internet Security Trusted Site.
Error Message: "Cannot collect tax data. Please log in and try again." or "Object reference not set to an instance of an object" to efile you need to have 8 GB RAM -
A workaround solution is close apps (and End Task) which are not in use. Then efile again.
Allow to Trust Site
*If you are still not able to efile follow the step below - Run as an Administrator*
How to Efile:
Log out of your account on the website
Close the browser
Close the Laser Link/TaxRight or ACA software.
On your desktop "Right Click" the Laser Link/TaxRight or ACA software "Icon"
Run as Administrator this will open your software
Select Efile "Efile My Forms" log in using your email and password
Select Single Payer and Form Type (if your Recipients are under Recipients E-filed you will need to reset & move them back to Select Recipients to E-file) How to Reset Recipients and E-file Again
The efile site will open "Review Your Imported Forms" click Save All Forms this will move them to Forms in Progress.
Forms in Progress > Review your forms > Select Form > Select Filing Option: Efile Only
Add To Cart > Proceed to Checkout
Credit Card information and submit
Note: If filing multiple times you (MUST log out the efile site if it is open)
If you did Not close the efile site and your getting "It looks like you're lost..."
1. Select - Go Back
2. Log into your account

3. Select Notification -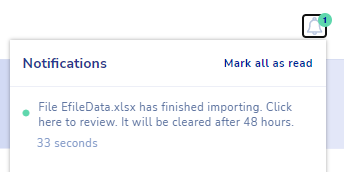 4. Select - This will open the Review Imported Forms - Save All Forms
5. Your forms are now under Forms in Progress -

Note: If No forms imported - you will need to manually import following the step below:
How to manually import your forms from the software to your efile site:
Log into your efile account
Efile your 1099/W2 this will create an excel worksheet (you will need to do this to manually upload)
Log into efile account - You can find this in your software under you Help > About TaxRight for 20## /Laser Link for 20## or ACA for 20##
Software > Select the Link
Log in using your email and password
Select Dashboard
Import My Forms > View Import Options
Select File to Import (arrow up)
Browse to: C:\Program Files (x86)\TaxRight for 20## /Laser Link for 20## or ACA for 20##\E-file
Select the 1099/W2 or 1095 file (excel spreadsheet)
This will bring you back to your efile site
Select Import Data - this will import your 1099/W2 or 1095 "Review Your Imported Forms"
Save All Forms > system will show a spinning wheel, if takes too long F5 to refresh your screen
Forms in Progress > Select Form > Select Filing Option: Efile Only
Add to Cart > Proceed to Checkout
Credit Card information and submit - Close the Efile site if filling multiple forms
Note: If filing multiple times you (MUST log out the efile site if it is open)
Repeat for each new upload - Efile through the software to create the 1099/W2 or 1095 excel worksheet (you will need to do this for each upload) the system will override the previous upload
** Note: If you are still not able to import your forms manually, this is caused from your firewall blocking our site you will need to contact your IT on how to allow our site or use a computer not on your network
The E-file portal is available for the current tax filing year (i.e. Nov. 2022 to Oct 31st 2023)